You are here
About Lehigh
Family Weekend
Friday, October 7 to Sunday, October 9, 2016
All are invited back to South Mountain to enjoy a weekend-long celebration of the Lehigh family.
Whether you are an alum, a family member of a current student, or a friend or fan of the Brown & White, we look forward to seeing you. All guests visiting campus are invited to attend any of the scheduled activities which include Founder's Day, Lehigh football game against Colgate, informative college presentations, the Zoellner Gala and much more!
Register for Family Weekend activities at http://mylehigh.lehigh.edu/FamilyWeekend16 by September 30. Space is limited for some activities, so please register early!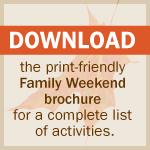 Questions?
Contact the Office of University Events at (610) 758-2746 or (610) 758-5292 or by emailing us at askevents@lehigh.edu.
Overnight Rooms
Holiday Inn Express & Suites
3375 High Point Blvd
Bethlehem, PA 18017
(610) 882-2255
Rate: 10/7: $135/night
10/8: $145/night
Holiday Inn Express Hellertown
2201 Cherry Lane
Bethlehem, PA 18015
(610) 838-6110
Rate: $207/night
Hilton Garden
1787B Airport Rd
Allentown PA
(610) 443-1400
$139.00
When confirming your reservations, inform the hotel representative that you are reserving a room within the "Lehigh University Family Weekend Room Block"