About Lehigh Campus Map
About Lehigh Campus Map
The Lehigh University interactive campus map provides a fast and convenient way to search for—and navigate to or from—any of the hundreds of locations on the university's three contiguous campuses.
Find Lehigh Locations And Parking
The map design is based on the popular Google Maps framework and is overlaid with customized markers, photography and information created and maintained by the university.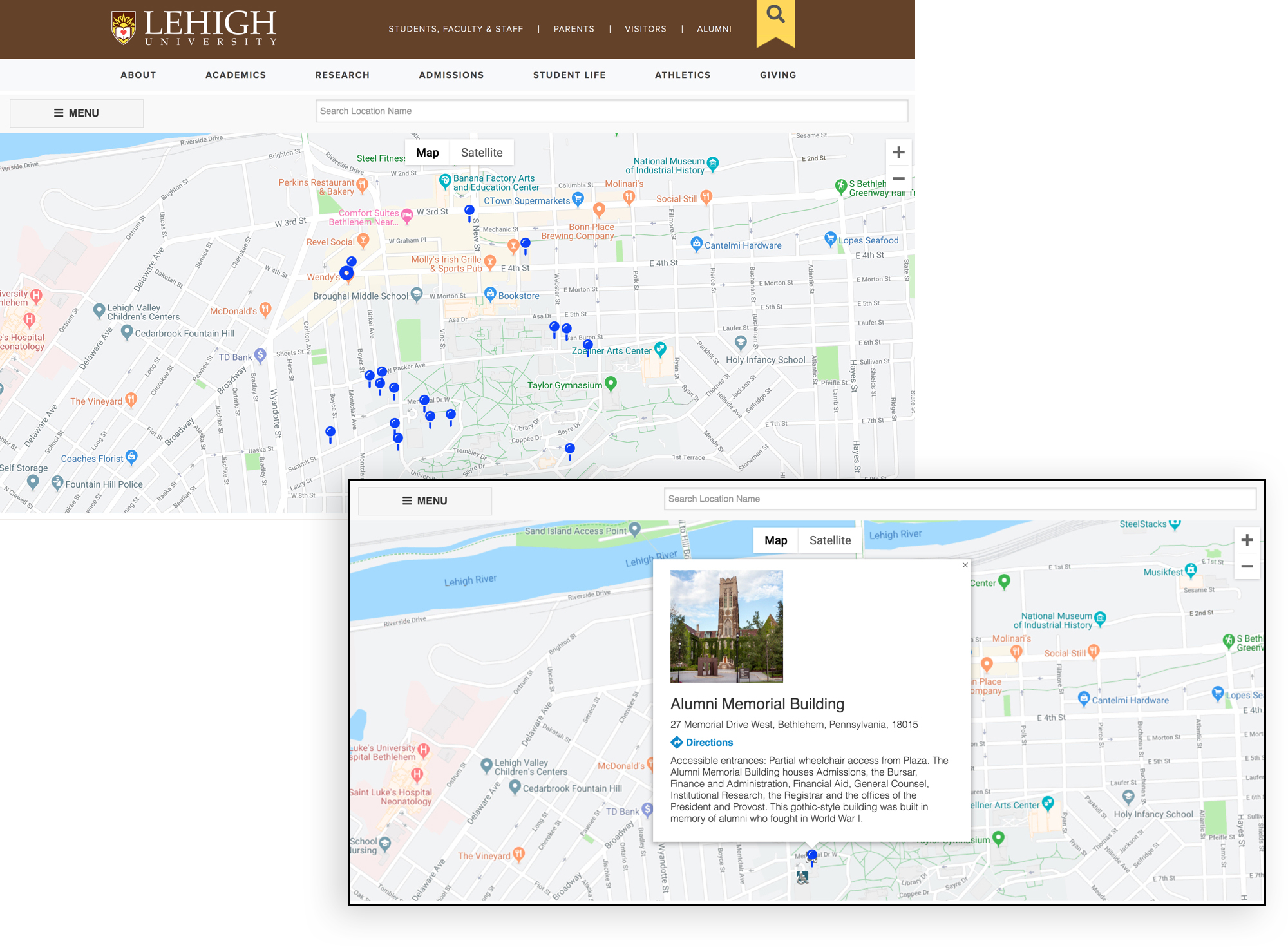 Campus Map Feature Highlights
Name Search

Dynamically filter or search across all location names by inputting partial text or complete names.

Expanded Location Details

Custom description and photography for each location including nearby blue light phones, accessible entrances and accessible parking.

Driving Directions

Location information features nearest street address and custom link to Google directions.

See Your Location

When on campus and your location permission is enabled, the map will provide a pin for your exact location using GPS. You can easily see your current proximity to each of the university's locations.

Link to Any Location

Share links to a particular location. For example, to open directly to "Dravo House," form the link: https://www2.lehigh.edu/map?location=Dravo House
Information Management
The Lehigh University interactive campus map consists of a rich information layer positioned atop the popular Google Maps framework. The Communications and Public Affairs Office of Lehigh University creates and maintains the following information within the campus map:
Organization and classification of the eight category listings including: Academic & Research; Libraries & Computing; Administration; Housing; Dining; Student Life; Athletics; and Parking.
Information windows activated by the color-coded marker pins including: location name; street address and customized link to Google directions.
Expanded location details including: location photograph; description of location; accessible entrances and nearby accessible parking and Blue Lights.
All of the details and information relating to the content outlined above remains the copyright of Lehigh University and all usage rights are reserved.
The base layer of the campus map (i.e., streets, street names, place names) is provided directly by Google Maps Service and may contain certain inaccuracies regarding physical locations on the Lehigh campus. Some known issues include the incorrect location of the Lehigh bookstore and Zoellner Arts Center that are visible on this base layer. Google Street View is provided directly by Google and may not be available within pedestrian areas of Lehigh's campuses.
Lehigh Directory
Visit the Lehigh Directory to use the people search tool to find a Lehigh person. Or, browse the offices and departments listing to find locations, hours, main phone numbers and other information for administrative offices and academic departments.