What is a subdomain and how does it work?
When a domain name (ex., lehigh.edu) is typed into a browser, a Domain Name Service (DNS) translates the name into its corresponding IP address and displays a web page as a result. To make all of this work, unique domain names are managed by a commercial domain name registrar for a recurring annual fee.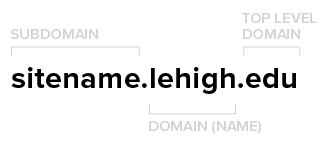 A subdomain is a subset of a registered domain name. Subdomains are most commonly used to divide websites into distinct sections that have unique web addresses. For example, "studentaffairs.lehigh.edu" is a subdomain of the "lehigh.edu" domain. Also in this example, the ".edu" portion is known as the top-level domain (TLD), and is frequently called the extension.
How do I request a lehigh.edu subdomain?
Determining the proper subdomain is part of the general consulting process that takes place when a request for a website is initiated. A Lehigh office, department or center that is interested in hosting and maintaining a website at lehigh.edu should begin the conversation by submitting a work order.