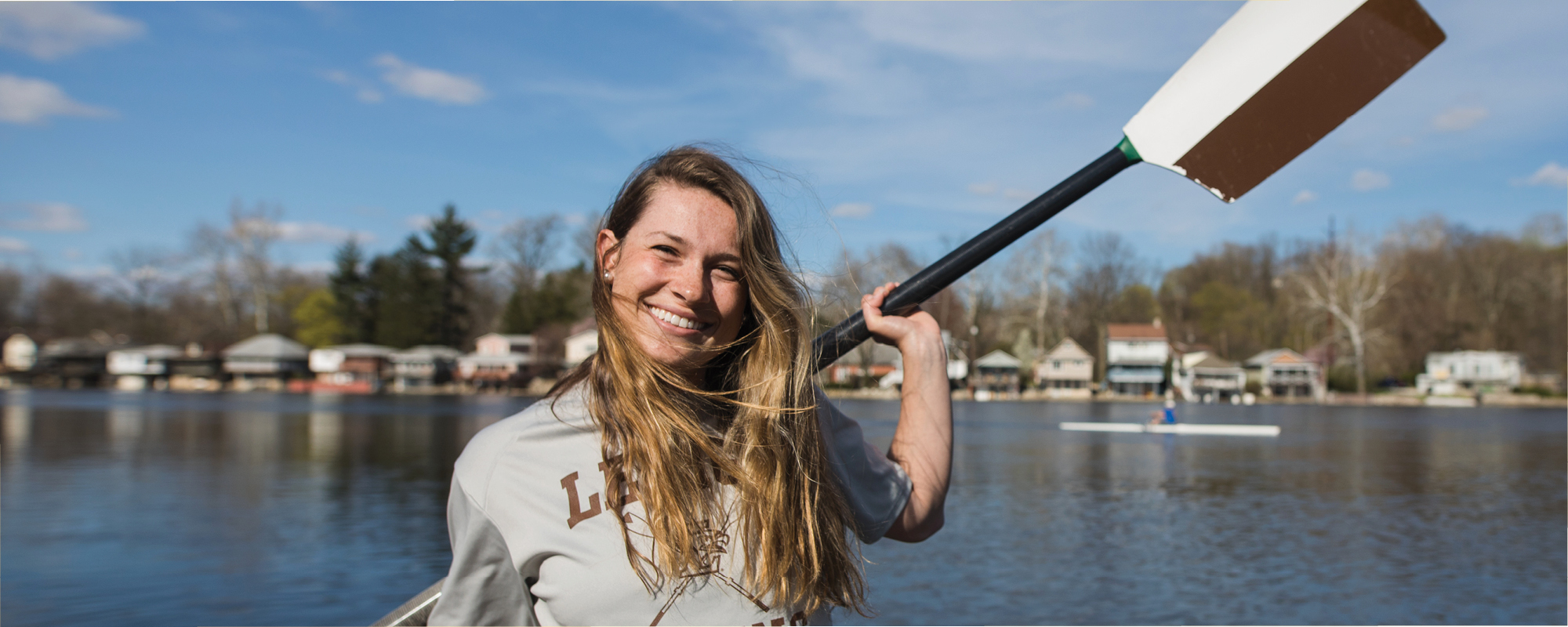 Elise Fredericks '18
"When I came to college, I knew that I wanted to keep athletics as an integral part of my life, and during orientation, I was working out in the gym when I stumbled upon a flyer advertising collegiate rowing at Lehigh. The assistant coach at the time caught me looking at the flyer and asked if I might be interested in joining the team. She encouraged me to attend the informational meeting that was taking place the next day. I went to the meeting, attended a practice at the boathouse the subsequent day, and I haven't looked back since! "
Q: How do you handle the challenge of being a student athlete?
A: It certainly has been a challenge to balance being both a student and athlete, as well as an involved member of the greater Lehigh community, but nothing worth doing is ever easy. Also, our team has utilized a variety of different external organizations to ensure that we are best addressing such challenges. Over the years, we've worked closely with sports psychologists, nutritionists and leadership consultants. Ultimately, each of these resources have aided our team's overall development and have equipped us with the tools necessary to successfully manage the challenges of being a student athlete.
Q: As a captain, what is your leadership style?
A: I think that my biggest strength as a leader is being someone who is approachable and commits to leading by example. I'm a quiet leader; I'm not the most vocal leader on the team, nor am I the one who initiates the warm-up or suggests workouts. But I pride myself on being reliable, and someone whom each of my teammates know will always be there for them. I'm the type of person who leads by building and valuing strong relationships with others, and leveraging that trust to accomplish our goals.
Q: What has been your proudest moment at Lehigh so far?
A: When I was a prospective student, I was profoundly impacted by the student who led my campus tour. Once I was admitted to Lehigh (which had been my first-choice school), I promised myself that I too would become a tour guide so that I could share my love of Lehigh with prospective students in the same way that my tour guide once had with me. My proudest moment at Lehigh was when I received a handwritten letter from a prospective student whom I had interviewed during the fall semester. This letter, which made me elated, was gratifying in that it affirmed what I had set out to accomplish as a first-year student - to communicate my feelings towards Lehigh in a way that positively influenced another prospective student. I'm proud to think that I had a small hand in helping guide this student's college decision and that I played a critical part in a longer chain of fostering genuine affection towards Lehigh.