You are here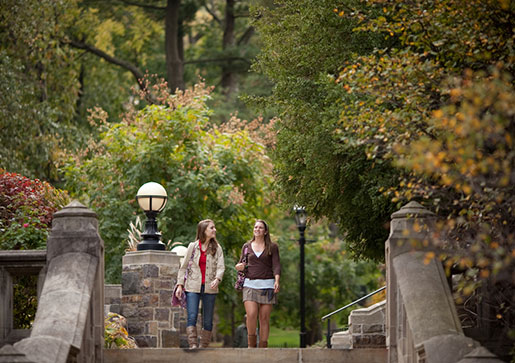 Transfer Students
Lehigh offers many opportunities for transfer students to excel in their chosen field, pursue their goals, build confidence and develop as a leader.
To apply to Lehigh as a transfer student, defined as a student who has earned 24 or more semester hours of college credit after completing high school, please submit your application through the Common Application website. For a listing of the materials that you will need to submit to apply to Lehigh, please visit the Application Requirements page. Additionally, please review the information below that pertains specifically to transfer students.
DEADLINES
Deadline to apply for Fall Enrollment: March 1
TRANSFERRING CREDIT
Lehigh provides a credit evaluation only after extending an offer of admission. The Office of the Registrar will make the final determination on what college credits will transfer to the institution. In order to estimate which courses will transfer to Lehigh, use the following guidelines:
Check the Transfer/Articulation Agreement information if you currently attend Northampton Community College Honors Program or Montgomery County Community College
Lehigh must offer an equivalent course.
The amount of time that the class met must be equal to courses offered at Lehigh (i.e., credit hours).
If the course at Lehigh has prerequisites, all prerequisites must be satisfied prior to taking the course.
Only a grade of "C" or better will transfer.
Courses in technology and science may require more information and faculty approval before Lehigh awards credit.
Applicants to the College of Business & Economics should attach the syllabus for each Business/Economics course under consideration.
In addition to a college credit evaluation, Lehigh will also accept SAT Subject Tests, AP and IB credits from admitted transfer students to be used for both academic classroom placement and course credit. SAT Subject Tests, AP and IB scores should be submitted to the Office of the Registrar after the student has been accepted to be considered for transfer credit. Such items are appropriate for class placement and course credit consideration:
Most SAT Subject Test Scores exceeding 700
Most AP Test Scores of 4 and 5 (with the exception of Calculus AB, Chemistry and a few others which require a score of 5)
Most IB Test Scores of 6 and 7 on higher-level examinations
ADDITIONAL FACTS ABOUT TRANSFERRING COLLEGE CREDITS TO LEHIGH:
Pass/Fail credit/non-credit courses are not acceptable for transfer.
Transfer courses may not be used to delete a prior grade from your cumulative grade point average at Lehigh University.
Transfer grades are not calculated in the Lehigh GPA.
No student may receive more credit at Lehigh than was granted on the other institution's transcript.
Courses taken on the quarter system will have credit granted on a 3:2 ratio, no partial credit will be awarded.
The student will receive credit equivalent to the number of credits indicated on the transcript, up to the number of credits for the equivalent course at Lehigh. The registrar has the final authority for the amount of credit awarded toward a Lehigh degree.
No credit will be granted for a course in which the student has already received credit for its equivalent at Lehigh.
No credit will be granted for continuing education unit courses, January or intersession courses, correspondence, independent study or any course less than three weeks during intersession, at least five weeks during summer, and/or 15 contact hours per credit without the advanced approval of a petition to the Committee on Standing of Students. Courses taken online require additional information for consideration of transfer credit.
College courses taken while in high school may require additional documentation.
Courses must be taken at an institution that is accredited by one of the six regional associations.
For more information about transfer credit requirements, please contact the Office of the Registrar at (610) 758-3194.
STUDENTS WITH DEGREES
Lehigh University accepts applications from students who have already earned one or more bachelor's/master's degree(s). If you have already earned a degree and wish to apply, you must submit the forms as other transfer students, which can be found on the Application Requirements page.
If you already have a degree and the admissions committee offers you admission, a special degree plan will be designed by your advisor with the courses required to obtain a Lehigh degree. The registrar will not transfer credit as in the case of other transfer applicants.
FINANCIAL AID:
For information about financial aid for transfer students, please visit the financial aid page for information for transfer students.
FAQS
When will admission decisions be released?
For students applying for the Fall 2014 semester, decisions will be released beginning in mid-May.
What is the minimum GPA required for transfer applicants?
There is no minimum required GPA. However, competitive applicants typically have a GPA of 3.25 or above.
Is standardized testing required for transfer applicants?
Lehigh does not require the SAT, ACT or SAT subject exams for transfer admission. Students whose first language is not English are required to submit the TOEFL examination for admission consideration. If you took the SAT exam in the past 2 years, we will waive the TOEFL requirement if you scored above a 570 on the Critical Reading component of the old SAT or with a 630 on the Evidence-Based Reading and Writing Section of the new SAT.
How many students are admitted as transfers each year?
Although the actual number differs each year on the number of admitted transfers, roughly a third (33 percent) of transfer applicants are admitted to Lehigh annually.
Does Lehigh accept online/distance learning classes?
No, only courses taught in a traditional classroom setting are acceptable for transfer.
Are there any merit scholarships available for transfers?
No, there are no academic or talent-based institutional scholarships offered at Lehigh for either domestic or international transfer students.
Does Lehigh offer Yellow Ribbon GI educational benefits?
Yes. As a supporting institution of the Yellow Ribbon Program through the Post-9/11 Veteran Educational Assistance Act, Lehigh does provide financial support to Post-9/11 veterans. However, participants of the Yellow Ribbon Program must be admitted to Lehigh University through the traditional transfer admissions process before Yellow Ribbon considerations are made.
Are interviews available for transfers?
No. Lehigh does not offer transfer applicant interviews. Therefore, you should use the application as the appropriate platform to discuss and/or explain anything that you feel is of particular importance.
I have attended more than one college. Can I just submit a transcript from the school I am currently attending?
No. You must submit college transcripts from all post-secondary institutions you have attended.
Will I know how many of my credits will transfer before I have to pay my deposit?
Yes. If admitted, you will receive a Transfer Credit Evaluation from the Office of the Registrar informing you of how many credits you have (tentatively) been awarded. Final credit approval will be granted when all final official transcripts from previous institutions have been received by the Office of the Registrar.
Where can I submit documents that are not through the Common Application?
Transfer College Report can be sent to Enrollment Services Center, 218 West Packer Ave, Bethlehem, PA 18015. Your College/University Transcript and Final High School Transcript must be submitted by a school official to be considered official. Parchment users can submit these to inemesc@lehigh.edu for the Enrollment Services Center, the office that processes admissions and financial aid materials. Course Descriptions and Transfer Credit Summary Sheet (PDF) can be submitted to the LU FileSender (preferred) or mailed to Enrollment Services Center, 218 West Packer Ave, Bethlehem, PA 18015.
NON-DEGREE-SEEKING STUDENTS
To be eligible for a degree from Lehigh, you must be enrolled as a full-time student. However, if you are not seeking a degree, you can take one or more courses through the General College Division (GCD). You may enroll in any course up to and including 300-level courses as long as prerequisites have been satisfied. Courses taken through GCD may not count toward a graduate degree at Lehigh.
For admission to the General College Division, you must submit a GCD application, high school and college transcripts, and written approval from the professor teaching each course you wish to take. To audit a course through GCD, you must obtain permission from the Committee on Standing of Students.
Deadlines for GCD applications are July 1 for the Fall semester and December 1 for the Spring semester. Students enrolled in courses through the GCD pay tuition according to the number of credit hours.
Students must be in a degree candidacy program to qualify for financial aid, including federal loans.
General College Division Application (PDF)
Professor Authorization form (PDF)
CONTACT INFORMATION
If you have questions about Lehigh's transfer admissions process, please contact:
Office of Admissions
Lehigh University
27 Memorial Drive West
Bethlehem, PA 18015-3094
(610) 758-3100
transfers@lehigh.edu
Connect With Lehigh
#LEHIGHVISIT PHOTOS FROM OUR VISITORS