You are here
President John D. Simon
Biography
John D. Simon, Lehigh's 14th president, is an internationally renowned chemist and highly respected leader in higher education. Formerly executive vice president and provost at the University of Virginia, Simon took office at Lehigh on July 1, 2015.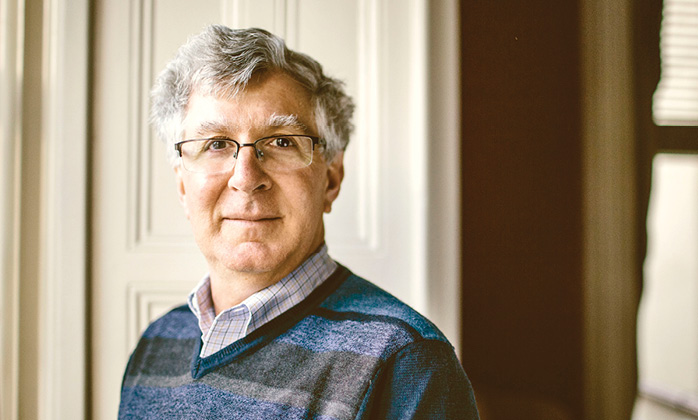 President Simon came to Lehigh from the University of Virginia, where he served as executive vice president and provost. In that role, he was responsible for the academic administration of each of the university's eleven colleges, as well as its library system, art museums, public service activities and foreign study programs. In all, Simon oversaw the academic activities of 2,200 instructional and research faculty, 14,500 undergraduate students and 6,500 graduate students, and managed a budget of $1.4 billion.
During his tenure at Virginia, Simon spearheaded a number of global initiatives, including the establishment of a new major in global studies and the opening of a physical presence for the university in Asia. He played a leading role in the launch of the University of Virginia's cutting-edge Data Science Institute as well as its Advanced Research Institute, and in creating the university's Endowment for the Arts. He also appointed several of the University of Virginia's deans and oversaw the hiring of several hundred faculty.
Previously, Simon served as vice-provost for academic affairs at Duke University from 2005 to 2011. During his time at Duke, he guided the university's strategic planning process and drove initiatives aimed at connecting the humanities, social sciences and sciences. He was chairman of Duke's department of chemistry from 1999-2004 and also held appointments in the Duke University Medical Center in both biochemistry and ophthalmology.
Simon received his B.A. from Williams College in 1979 and his Ph.D. from the department of chemistry at Harvard University in 1983. After a postdoctoral fellowship at UCLA, Simon joined the department of chemistry and biochemistry at UCSD in 1985 and then moved to Duke University as the George B. Geller Professor in 1998.
He is married to Diane Szaflarski, who served as an associate professor at Virginia's School of Nursing and will serve as a professor of practice at Lehigh. John and Diane have two sons.
Education
B.A., Williams College (1979)
Ph.D., Harvard University (1983)
Postdoctoral Fellow, University of California, Los Angeles
Research Interests
Simon's research interests for the past decade have been focused on understanding the structure and function of human pigmentation. Most recently, he has been collaborating with scientists from around the world to study the intact pigments recovered from the Jurassic period. He has authored or co-authored nearly 250 academic papers and four books.
Awards and Honors
Simon has been the recipient of numerous fellowships and awards for his scientific work, including the Presidential Young Investigator Award, Alfred P. Sloan Fellowship, Camille and Henry Dreyfus Teacher Scholar Award and the Fresenius Award. He is a fellow of both the American Association for the Advancement of Science and the American Physical Society.
Curriculum Vitae
Read more about Simon's distinguished career and accomplishments. View full CV (PDF) >