Career Outcomes: Job Placement Success & Postgraduate Education
Career Outcomes: Job Placement Success & Postgraduate Education
Learn where the Class of 2020 landed after graduation—and discover where Lehigh can take you.
Undergraduate Outcomes Summary
At Lehigh, we take pride in providing great value for your investment. That value comes in the form of academic and research opportunities, faculty mentorship, and real world collaborative experience that prepares our students for success. You'll leave as part of the 85,000+ Lehigh family, with the confidence and credentials to excel in your field of choice.
Our Class of 2020 rose above the challenges brought forth by COVID-19 in their final semester. Of the 1,259 bachelor's degree recipients, verifiable data was obtained for 81% of the graduates. Outcome data for the class of 2020 includes students who received bachelor's degrees between July 1, 2019, and June 30, 2020.
of the class of 2020 are employed, continuing education or pursuing military or volunteer service
average starting salary of 2020 graduates
of our students completed one or more internships or an experiential learning opportunity
graduates in the Lehigh alumni network
College Salary Report from PayScale
Undergraduate Outcomes
Explore top industries, top employers and average starting salaries for each of our undergraduate colleges, as well as graduate and professional schools for graduate matriculation.
The Center for Career & Professional Development
Career Learning Cycle
The mission of Lehigh's Center for Career & Professional Development is to provide career education and connections that support student success. We fulfill this mission with a focus on students and their unique needs. Utilizing a blended learning approach, we deliver career education through career coaching, learning labs, workshops, classroom presentations, online tools and high impact experiential learning opportunities to enhance student development.
Our team is aligned with the undergraduate colleges to deliver customized career education and connections. We develop opportunities for students to connect with industry partners and alumni through mentoring, internships, on campus and virtual interviews, career expos and more.
CCPD uses a four-year learning cycle that helps students take charge of their career development. Our career learning cycle is a simple way to help students think about and plan their futures.

EXPLORE: Ask big questions, and explore and participate in activities that will help you develop an understanding of how your strengths, skills, interests and values relate to your choice of a major and career.

DEVELOP SKILLS: Build effective skills and your personal brand, and develop the tools and strategies needed to secure an internship and full-time position.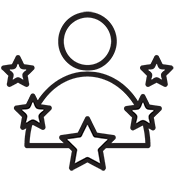 GAIN EXPERIENCE: Expand your skills and try experiential opportunities such as internships, capstone projects, research, international experiences, entrepreneurial experiences and community service.

BUILD CONNECTIONS AND NETWORK: Make connections, seek information and advice about career paths, network, and work with the CCPD team to develop a strategy.
The CCPD Network
unique employers hired Lehigh graduates from the class of 2020
full-time positions and internships posted on Lehigh's Center for Career & Professional Development job board
of our top employers have committed to advance diversity and inclusion within the workplace through the CEO Action Pledge
alumni mentors are available for Lehigh students