Career Outcomes: Job Placement Success & Postgraduate Education
Career Outcomes: Job Placement Success & Postgraduate Education
Learn where the Class of 2017 landed after graduation and discover where Lehigh can take you.
At Lehigh, we provide the real-world collaborative experience, professional development and career advisement that will prepare you for success.
Undergraduate Outcomes Summary*
96%
of the class of 2017 are employed or attending graduate school within 6 months of graduation
*Of the 1,164 bachelor's degree recipients, verifiable data was obtained for 85% of the graduates. Outcome data for the class of 2017 includes students who received bachelor's degrees between July 1, 2016, and June 30, 2017.
**Other includes service programs, military, and non-employment by choice.
of our students completed one or more internships or an experiential learning opportunity
graduates in the Lehigh alumni network
unique employers hired Lehigh students
The Center for Career & Professional Development
Career Learning Cycle
The mission of Lehigh's Center for Career & Professional Development (CCPD) is to provide career education and connections that support student success. We fulfill this mission by actively developing opportunities for students to connect with employer partners and alumni through externships, internships, on-campus interviews, career expos and more. Our career coaching team is aligned with the three undergraduate colleges to deliver customized career education and connections.
The career learning cycle is a simple way to help you think about and plan your future. The CCPD uses a four-year learning cycle that helps students take charge of their career development.

EXPLORE: Ask big questions, and explore and participate in activities that will help you develop an understanding of how your strengths, skills, interests and values relate to your choice of a major and career.

DEVELOP SKILLS: Build effective skills and your personal brand, and develop the tools and strategies needed to secure an internship or full-time position.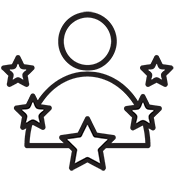 GAIN EXPERIENCE: Try things through capstone projects, research, study abroad and leadership opportunities, as well as internships, externships or a co-op position.

BUILD CONNECTIONS AND NETWORK: Build connections and network, seek information and advice about career paths and work with the CCPD team to develop a strategy.
interactions with CCPD programs and resources
attendees at career education events and programs
one-on-one career coaching appointments
interviews with employers on campus
full-time positions posted (and 1,011 co-ops and internships)