You are here
About Lehigh
News, Events and Venues
Lehigh University is a dynamic place to be both inside and outside the classroom. We invite members of the Lehigh family and our neighbors to participate in university programs, attend the myriad of free lectures throughout the year, take in an art exhibit or performance and cheer for the Mountain Hawks at athletic events.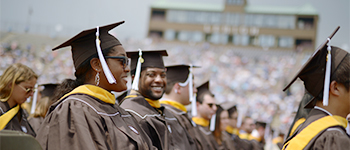 Events
Lehigh University offers exciting events throughout the year for members of both the Lehigh and local communities. Annual events, including Commencement, alumni reunions, Founder's Day, Family Weekend, and the long-standing Lehigh-Lafayette game, attract countless alumni, families and fans of Lehigh to campus each year. And a full schedule of lectures, concerts, performances, theater productions and athletic events ensures that there's something for everyone.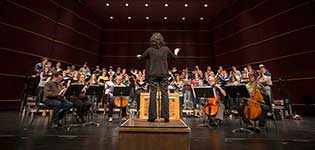 Venues
Lehigh is comprised of 2,358 acres, making it one of the largest private universities in the country. The Asa Packer Campus, Mountaintop Campus, and Murray H. Goodman Campus are contiguous. In 2012, the university received a Stabler Foundation gift of 755 acres in nearby Upper Saucon Township. These campuses are home to state-of-the-art academic, cultural and athletic facilities.
Each year, Lehigh hosts world-renowned artists, performers and lecturers at its Zoellner Arts Center, home to three theaters including a 1,000-seat proscenium theater, a 300-seat thrust theater, and a 125-seat black box theater. Situated on the Murray H. Goodman Campus is Stabler Arena, a 6,000-seat sports and entertainment facility. Modern lecture halls and classrooms also offer ideal venues for the myriad of campus events that attract both the Lehigh and local communities throughout the year.