You are here
About Lehigh
Maps & Directions
Lehigh is easily reached via air or ground transportation. The Lehigh Valley International Airport, just 6 miles from campus, is served by many major airlines. Also within driving distance is Philadelphia International Airport (65 miles from campus) and Newark Liberty International Airport (73 miles from campus). For additional transportation services to the Lehigh Valley, visit our Local Activities & Resources.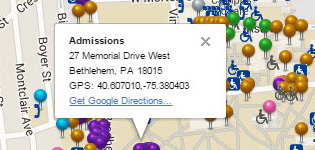 Campus Map
The Lehigh University interactive campus map provides a fast and convenient way to search for—and navigate to or from—any of the hundreds of offices, departments, facilities and venues located on the university's three contiguous campuses.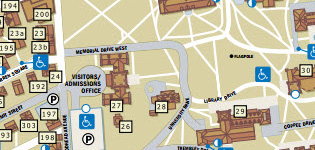 Printable Maps
For your convenience, we provide printer-friendly versions of our maps to help facilitate your visit to the Lehigh Campus.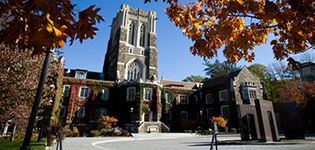 Driving Directions
Asa Packer Campus
The Admissions Office is located on Lehigh's original and most historic campus, where most classrooms, residence halls, dining facilities and libraries are located. View directions >
Mountaintop Campus
Crowning South Mountain, this campus contains major research facilities and Iacocca Hall, which houses two academic departments (Chemical Engineering and Biological Sciences) and the College of Education. View directions >
Murray H. Goodman Campus
Located on the other side of the mountain in Saucon Valley, this campus is home to Lehigh's athletic complex, the Murray H. Goodman football stadium, Stabler Arena and the Rauch Field House. View directions >
Building Directions
For driving directions to additional athletic facilities, visit www.lehighsports.com.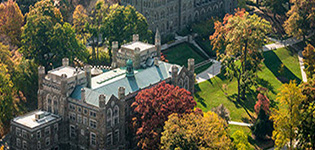 Virtual Tour
Nested on the side of South Mountain in Bethlehem, Pennsylvania, Lehigh University has one of the most charming and welcoming campuses in the country. View eleven of our most beloved spots to live, learn and play with a bird's eye view of our three contiguous campuses >