You are here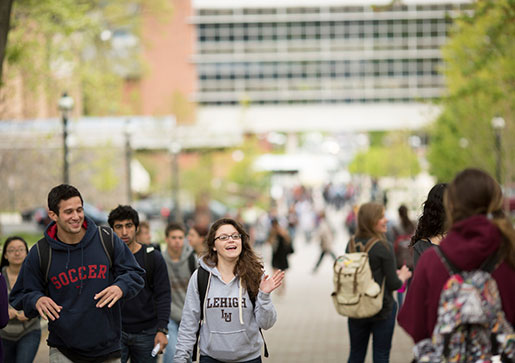 Contact Admissions
Have questions? Lehigh has a team of admissions counselors ready to answer any questions you might have. Take a second to find your regional counselor and connect with our Admissions Office on Facebook or Twitter. Any way you reach out, we're always happy to help.
OFFICE OF UNDERGRADUATE ADMISSIONS
Location
Lehigh University
Alumni Memorial Building
27 Memorial Drive West
Bethlehem, PA 18015-3094 U.S.A.
Office Hours: Monday-Friday 8:15 a.m.-4:45 p.m.
Mailing Address for Application Materials
Enrollment Services Center
218 West Packer Avenue
Bethlehem, PA 18015-3094
Contact Information
Email: admissions@lehigh.edu
Transfer Students: transfers@lehigh.edu
International Students: luinternational@lehigh.edu
Phone: (610) 758-3100
Fax: (610) 758-4361
Admissions Counselors
Find a counselor in your region >
Learn More About Lehigh: Sign up to receive brochures and emails >
VISIT US!
You can always drop us an email or give us a call, but we welcome the chance to meet you in person. Make plans to travel to campus or, if Bethlehem is a bit of a hike, join us at one of our off-campus admission events at venues across the country and around the world.
Please take a look at our Visits & Tours page for more information about your upcoming trip to Lehigh.
Connect With Lehigh
#LEHIGHVISIT PHOTOS FROM OUR VISITORS