You are here
About Lehigh
Lehigh at a Glance
Recognized among the nation's premier research universities, Lehigh offers a rigorous academic community for nearly 7,000 students. Our ideal size, student-to-faculty ratio and vibrant campus allow students to collaborate on projects in and out of the classroom.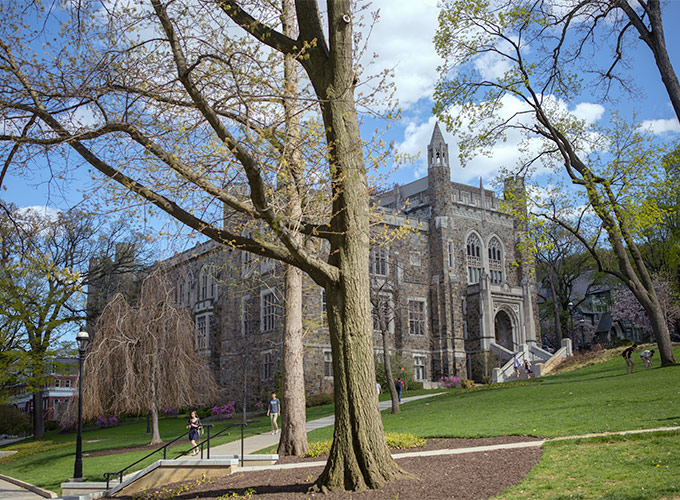 Fast Facts
Founded:
1865 by Asa Packer, an industrial pioneer, entrepreneur and philanthropist
Accreditation:
Regionally Accredited, Middle States Association of Colleges and Schools
Student Body:
5,061 undergraduates (56% men, 44% women)
1,979 graduate students (55% men, 45% women)
4 Colleges:
College of Arts and Sciences, College of Business and Economics, P.C. Rossin College of Engineering and Applied Science and College of Education
Lehigh Endowment:
$1.2 billion
Learn more about the endowment >
Athletics Program:
25 NCAA Division I intercollegiate sports for men and women, 43 intramural and club sports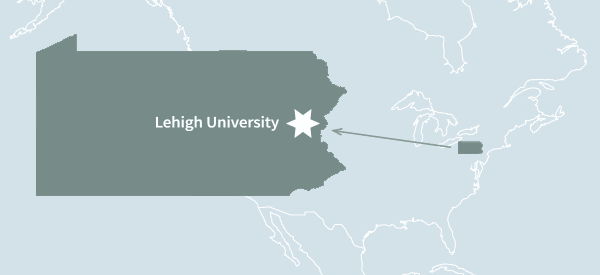 Lehigh University is located in Bethlehem, PA., a vibrant and historic community that is a short drive from New York City and Philadelphia. Over 820,000 people live in the region.
SIZE OF CAMPUS: 2,358 acres. The Asa Packer Campus, Mountaintop Campus and Murray H. Goodman Campus are contiguous.
28
Average Class Size
80% of classes have 35 or fewer students
10:1
Student-to-Faculty Ratio
2,300+
Courses Offered
100+ Undergraduate degree programs
13 Masters and Doctorate Degrees
Undergraduates Enrolled At Lehigh This Fall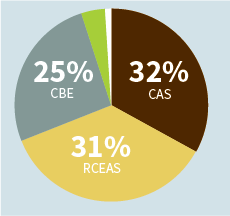 College of Arts & Sciences - 32%

P.C. Rossin College of Engineering & Applied Sciences - 31%

College of Business & Economics - 25%

Intercollegiate Programs - 11%

Arts & Engineering - 1%
13,403
High School Students Applied To Lehigh Last Year
3,499
Acceptances
1,249
Matriculants
Middle 50% Of Students Offered Admissions
SAT RANGES*
630-730
Verbal
660-755
Math
ACT RANGES**
30-33
*Old SAT scale not the redesigned scale.
**ACT ranges not required.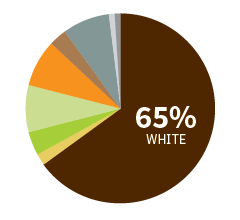 ETHNICITY

White - 62%

Nonresident Aliens - 10%

Hispanic - 9%

Asian or Pacific Islander - 8%

Two or more races - 4%

Race/ethnicity unknown - 4%

Black or African American - 3%

American Indian or Alaska Native - <1%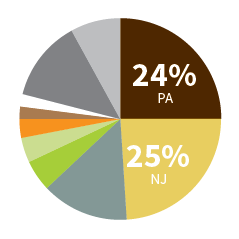 GEOGRAPHY

NJ - 24%

PA - 22%

NY - 16%

Other U.S. states and territories - 14%

Other countries - 10%

CT - 4%

MA - 4%

CA - 3%

MD - 3%
Student life at Lehigh integrates academics with a vibrant array of organizations and activities, leadership development, residential life, the arts, athletics, and exciting community service opportunities.
The safety and security of our community is our top priority. The Lehigh University Police Department is accredited by the Pennsylvania Chiefs of Police Association and the Pennsylvania Law Enforcement Accreditation Commission.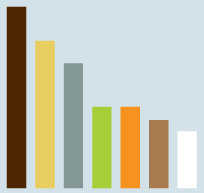 EXTRACURRICULAR PARTICIPATION

Overall Extracurricular Participation - 96%

On Campus Events (Zoellner, movies, etc.) - 78%

Volunteering/Community Service - 66%

Multicultural Events - 43%

Intramural/Recreational Athletics - 43%

Religious Groups/Activities - 36%

Political Activities - 30%
Lehigh faculty members are world-class scholars who are known for their excellence in research.
full-time professors teach at Lehigh.
of Lehigh faculty hold the terminal degree in their field.
of full-time faculty are tenured.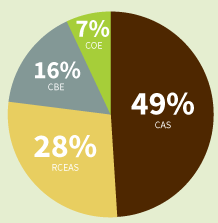 FACULTY COLLEGE BREAKDOWN

College of Arts & Sciences - 49%

P.C. Rossin College of Engineering & Applied Sciences - 28%

College of Business & Economics - 16%

College of Education - 7%

1,050+ undergraduates take part in research every year
117 research grants awarded to Lehigh faculty by external funding agencies
784 students were employed in faculty projects (undergraduate and graduate)
45 student projects were supported from Spring 2012-Spring 2013 by the Dale S. Strohl '58 Awards for Research Excellence in Humanities and Social Sciences
55 students received grants for their own projects
$47,920 tuition
$12,690 room and board
$400 technology fee
books, fees and miscellaneous expenses:Approximately $2,065 per year. Additional laboratory fee of $520 for engineering and science majors.
$74 million grants and scholarships

Lehigh offers competitive financial aid packages that are awarded on a need- and merit- based system.
$39,925 typical financial aid package
More Than 50% of our students receive financial aid
The Lehigh University United National Partnership offers 56 U.N.-related programs every year. Lehigh was just the 6th university in the world to have earned NGO (non-governmental organization) status from the U.N.'s Office of Public Information.
1,600
number of alumni who live overseas spanning six continents

103 students served distinctive, individually designed internships in 15 countries through the Iacocca International Internship program.
250
study abroad programs in
74
countries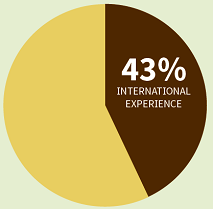 43% of the Class of 2016 studied overseas at least once.
96%
of the class of 2015
achieved career-related employment, entered graduate school, or landed other opportunities within their plan
More than 261 companies, representing a wide range of industries, visited campus to recruit Lehigh students.
$60,000
median starting salary for Lehigh graduates
3rd FOR SALARY POTENTIAL IN NORTHEAST (behind Princeton, West Point and tied with MIT)

PLACEMENT - ALL MAJORS

Employment - 68%

Graduate School - 24%

Other - 4%

Still Seeking - 4%
Lehigh's overall College Return on Investment Rank is 39th out of 1,511 colleges and universities nationwide. Among private, not-for-profit universities, Lehigh is ranked 24th out of 607. Judging by mid-career salary rank for private schools, Lehigh is ranked 5th out of 606 institutions.