You are here
Student Life
Lehigh University blends rigorous academic programs with a vibrant life in and outside the classroom, offering distinctive programs that support, guide, challenge and inspire our students. From the time you step onto campus to begin your Lehigh experience until the day you leave with your diploma, our staff will help you chart your unique path for success ­­ all within a safe, vibrant living environment that fosters personal growth and development.
99%
of Lehigh students participated in an extracurricular activity.
24%
of Lehigh's undergraduate students are of a diverse background.
Bed Races

Originally part of Greek Week, the current version of bed races occurs during Lehigh-Lafayette Week and is conducted on Memorial Drive. Teams are composed of four people pushing a bed on wheels and one person riding.

Four O'Clocks

Exams occurring at 4 p.m. and given to multiple sections of the same class so that all students take the exam together.

GoldPLUS

A declining balance program where students may deposit money into their account and then use their student ID card as a debit card at both on-campus and local restaurants.

Hawk's Nest

1. On-campus diner with late-night hours, located in Lamberton Hall student center. 2. A student group charged with creating support and enthusiasm at athletic events.

Lehigh-Laf

The week of activities leading up to the most-played rivalry in college football, including the Turkey Trot, bed races and the Spirit of Lehigh parade.

President's Scholars

Any Lehigh student who graduates with a 3.75 GPA or better, has taken 92 credits at Lehigh, and completed at least four full-time regular semesters will automatically qualify for a free fifth year of course study at Lehigh.

The Brown and White

Lehigh school newspaper published twice each week.

The UC (University Center)

This building contains several dining options, a bank, meeting rooms and numerous college life offices including the Office of the First-Year Experience.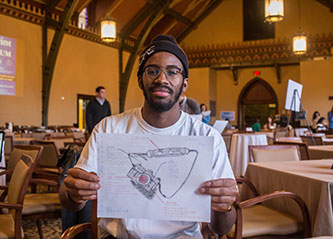 bLUeprint Program
Chart your individual path for growth based on the foundations for student success.