Events & Venues
Events & Venues
Hallmark Events
Each year brings numerous happenings to Lehigh, from university events to arts and culture opportunities, athletics events to long-standing traditions that date back decades. It simply would not be a year at Lehigh without Family Weekend, Founder's Weekend, Lehigh-Lafayette and so much more.

Venues
Lehigh hosts athletic, arts and other events at venues located on each of its three campuses.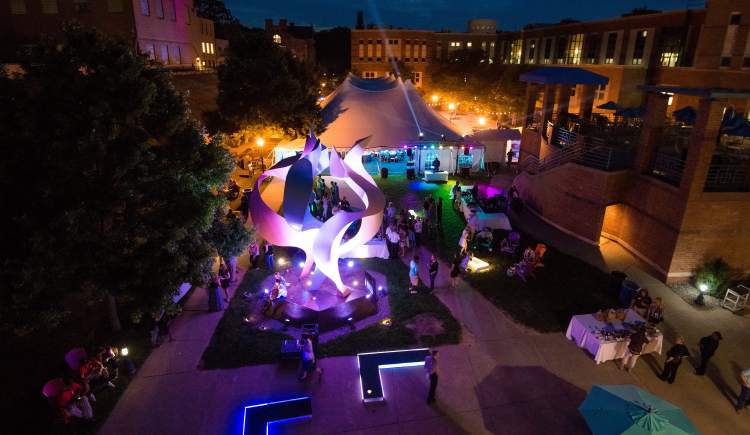 The center opened in 1997 as the home to the Lehigh University Music Department, the Department of Theatre, the Art Galleries and the Guest Artist Series, all of which share the same professional technical, marketing and administrative staff, venues and equipment.
Stabler Arena is home to Lehigh basketball and named after Trustee Emeritus Donald E. Stabler '30. The 5,600-seat arena also holds many different entertainment activities such as concerts, meetings, shows, conventions and high school graduations.
There are several athletics facilities across both the Asa Packer and Goodman campuses. The Caruso Wrestling Complex, Jacobs Pool and Leeman-Turner Arena are on Asa Packer, and Goodman features the Goodman Stadium, Stabler Arena, Rauch Fieldhouse, Ulrich Sports Complex and many more.
Located at Lehigh's Mountaintop campus, the Iacocca Conference Center includes three dining areas, numerous breakout & meeting rooms and one of the most impressive views in the Lehigh Valley.
Experience Lehigh
From MOOV-In Day to Commencement, Founder's Day to Spirit Week, every year at Lehigh brings an exciting variety of events, lectures, activities, traditions and more.
Celebrating the Globe
Each year, students, faculty and staff celebrate the International Bazaar with a flag parade, performances and food that celebrate the innate beauty and uniqueness of all the places around the world that make up Lehigh.
Commencement
Each year, Lehigh welcomes nearly 1,500 graduates to the alumni family in an exciting, inspirational ceremony at Goodman Stadium.
Honoring Asa Packer
Founder's Weekend commemorates the rich legacy of our founder, Asa Packer. At this event we recognize University leaders who continue to take our institution to new heights.
The Rivalry
The greatest college football rivalry is played against Lafayette College each season. After more than 150 meetings, Lehigh spirit and Mountain Hawk pride are at an all-time high when alumni and Lehigh community members come together to celebrate one of our most exciting traditions.