Lehigh History & Our Founder, Asa Packer
Lehigh History & Our Founder, Asa Packer
Lehigh University's history is inherently linked to America's rise as an industrial power. Our founder, the industrial pioneer, entrepreneur and philanthropist Asa Packer, laid the foundation for a university that has since educated generations of students and served as a force of positive societal change.
Lehigh University was born in post-Civil War America, a period when the United States was both rebuilding from the turmoil of the war and flexing its muscles as a new economic power. The growth of the period was driven in part by the dramatic increase in the utilization of iron and coal in industry, brought about by improved transportation on the nation's waterways and railroads.
Asa Packer, founder of the Lehigh Valley Railroad, was one of the men who both pushed along and benefited from the dynamics of the day, and by 1865, he had acquired both the vision and the financial clout to give back to the region that had helped him build a fortune. He donated $500,000 to create a new university to serve the "intellectual and moral improvement" of the young men of the Lehigh Valley. The new institution was called, simply, Lehigh University.
In the century and a half that has passed since, Lehigh has evolved into one of the most highly regarded institutions of higher learning in the nation. Lehigh graduates have led both the Ford and Chrysler corporations, orchestrated the construction of the giant locks of the Panama Canal, and stood as leaders and innovators in the worlds of business, engineering, politics, the arts, education, space exploration and countless other fields.
Today, Lehigh continues to educate thousands of young women and men who are drawn to South Mountain by the opportunity to learn at an internationally recognized research university, and to live and grow in a vibrant and engaging campus community.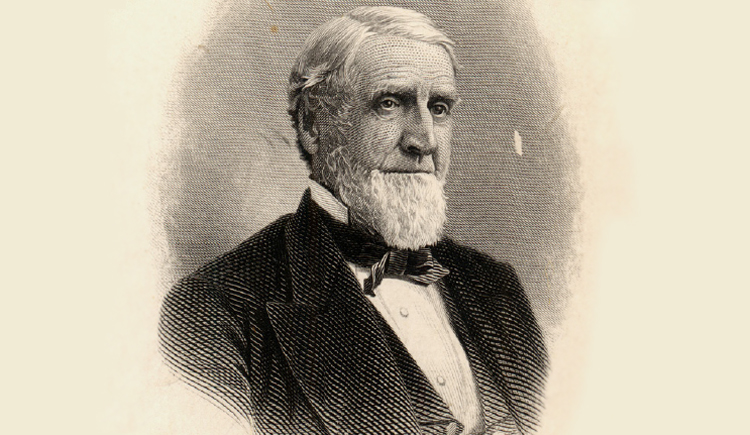 Our Founder
Lehigh founder Asa Packer was a true visionary, an individual whose ambition and intelligence served him well in the world of business and politics—and eventually allowed him to build one of the nation's finest institutions of higher learning.
Packer came from humble beginnings. Born in Connecticut in 1805 to a poor family, he worked first as a carpenter and farmer before getting into Pennsylvania's booming canal business in the 1830s. After starting out as a canal boat pilot, the entrepreneurial Packer soon bought his own boat—and later, an entire fleet.
His business acumen continued to serve him well in the 1850s, when he made the bold decision to finance the construction of the Lehigh Valley Railroad, which was perfectly positioned to support the region's massive coal industry. His investment proved a wise one; as the canals died off, the railroads thrived, and Packer amassed a fortune.
At the same time, his influence in the public sphere grew as well. Packer was elected twice to the Pennsylvania General Assembly, was an associate judge in Carbon County, and later served two terms in the U.S. House of Representatives.
His greatest legacy, however, is the university he created. In 1865, Packer donated 57 acres of land on Bethlehem's South Mountain along with $500,000 of his own funds—then the largest gift ever made to an educational institution—to establish Lehigh University.
Just over a decade later, on May 17, 1879, Packer passed away. In October of that same year, the university celebrated its very first Founder's Day to honor its founder's legacy. That tradition continues to this day.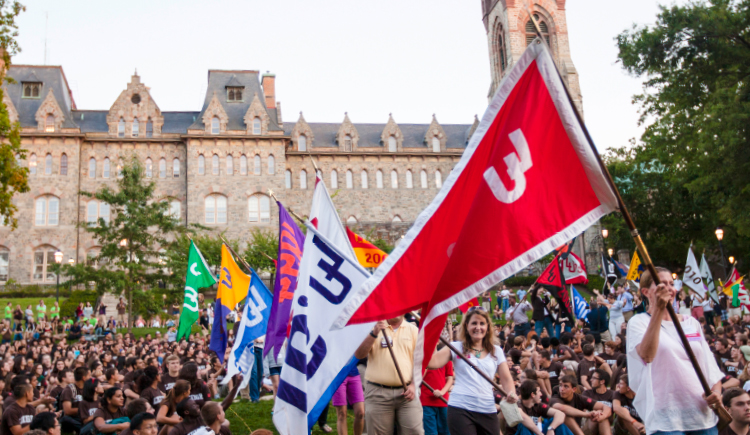 A Tradition of Excellence
More than 150 years after its founding, Lehigh continues to honor its legacies and traditions while constantly seeking new and innovative ways to educate the leaders of tomorrow.
A university that began as the home of just 39 eager young scholars is now a thriving, internationally recognized university of more than 4,600 undergraduate and 2,000 graduate students. Under the leadership of President John Simon, Lehigh has embarked on a bold plan to expand its impact on its students, its community and its world. President Simon's "Path to Prominence" plan calls for Lehigh to grow and diversify its overall student enrollment; create a new college of health; build new academic and research facilities; and reimagine and renovate some of the university's most historic and iconic buildings.
Taken together, these initiatives represent the latest efforts in Lehigh's ongoing work to achieve excellence in teaching, learning and service to society.
Past Presidents of Lehigh University
1875-1880
John McDowell Leavitt
1880-1893
Robert Alexander Lamberton
1895-1904
Thomas Messinger Drown
1905-1920
Henry Sturgis Drinker '71
1922-1935
Charles Russ Richards
1935-1944
Clement C. Williams
1946-1960
Martin Dewey Whitaker
1961-1964
Harvey A. Neville
1964-1982
W. Deming Lewis
1997-1998
William C. Hittinger '44 (Interim)
1998-2006
Gregory C. Farrington
2014-2015
Kevin Clayton '84 '13P (Interim)
2015-2021
John D. Simon '19P